AES Student Blog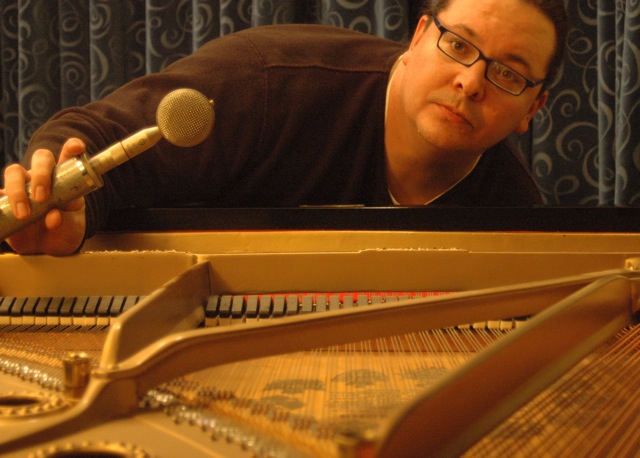 Alex Case - honorary judge for category 3 (modern studio recording)
Alex U. Case is an Associate Professor of Sound Recording Technology at the University of Massachusetts Lowell. With degrees in Mechanical Engineering, Music, and Acoustics, Professor Case has dedicated his professional life to the study of aesthetics, perception, signal processing, electro-acoustics and room acoustics for the creation and enjoyment of sound recordings.
Case is a widely published author, with over 100 articles appearing in multiple journals and industry trade publications. He has authored two titles for Focal Press, both bestsellers in their genre.
Case is an educator in great demand. In addition to his full time undergraduate and graduate teaching, Case has given many invited lectures and master classes at over 20 different universities across the globe from the Berklee College of Music to the Shanghai Conservatory of Music.
Case is active in the two professional societies central to his research. For the Audio Engineering Society, he serves the Awards Committee, Education Committee, and Membership Committee, and has served the Convention Planning Committees in New York and San Francisco. Professor Case is a Fellow of the Acoustical Society of America where he is a frequent presenter of papers and chair of special sessions. He serves as Chair of Technical Committee on Architectural Acoustics.

Posted: Tuesday, April 16, 2013
Liz Teutsch - honorary judge for category 2 (traditional studio recording)
Liz is an audio professional and educator based in Valencia, Spain where she is an Associate Professor and the Assistant Director of Academic Technology at Berklee College of Music. Formerly the Director of Audio Production at Boston University's Center for Digital Imaging Arts, Liz is an active member of the Audio Engineering Society and its education events. She is a graduate of Dartmouth College and Berklee College of Music.

Posted: Tuesday, April 16, 2013
Andrea Pejrolo - honorary judge for category 3 (modern studio recording)
Andrea Pejrolo (www.apejrolo.com) is the Assistant Chair of the Contemporary Writing and Production department at Berklee College of Music in Boston.
Andrea is a composer, producer, music technology expert, audio engineer, and bassist. He is the author of Creative Sequencing Techniques for Music Production (1st edition 2005, and 2nd edition 2011) and Acoustic and MIDI Orchestration for the Contemporary Composer (2007) and has written several articles for music magazines, including Sound On Sound, Bass World Magazine (USA), Muralann and Boheme Press (Canada), and Il Capitello Publisher (Italy). recently he has launched a brand new website/blog called www.acousticmidiorchestration.com.

Andrea has extensive and active professional experience as a sound designer, audio engineer/producer, MIDI programmer and composer for film, TV, theater and multimedia. Some of his recent collaborations and projects include Traits de Marque in Paris, iAcoustica Studio drum library, iDrum Rock Edition for iPhone/iPad in collaboration with Izotope, arrangements and recording with the City of Prague Philharmonic Orchestra, Kevin Bacon's "Lover Boy", Harry Davis' "MVP", Don Sebesky, ABC, CBS, Cy Coleman, Burning Petals Music Production (U.K.), the Broadway Show "Swing" (St. James Theater, NY), and the Grand Canyon Music Festival.

Some of hi latest "inventions" as music technologist can be seen on Vimeo at http://vimeo.com/56389617 and http://vimeo.com/56386501

Andrea holds a Ph.D. in jazz composition/performance from New York University, a Master in Composition for Film, TV, Theater and Multimedia from the University of Bristol (U.K.) and a Music Diploma in Jazz Performance from Manhattan School of Music in New York City.

Follow Andrea's work via Twitter @apejrolo_music.

Posted: Tuesday, April 16, 2013
Mischa Janisch - honorary judge for category 2 (traditional studio recording)
Mischa Janisch started his professional career in 1994 as a drummer and songwriter in Vienna. His passion for audio let him into music production and engineering, where he started as a freelancer at Sunshine Music in 1995 where he later became an associate.

Starting as a producer, he soon established himself as a successfull mixing engineer.

Due to the lack of proper Austrian mastering studios in the 90s, he became more and more involved into mastering which finally led to the founding of Sunshine Mastering under his supervision.

Mischa is also an educator of the Tonmeister programm of the University of Music and Performing Arts Vienna.

Posted: Tuesday, April 16, 2013
Richard King - honorary judge for category 1 (traditional acoustic recording)

Richard King holds a bachelor of music from Dalhousie University in Halifax, Nova Scotia and a master of music with a major in sound recording from McGill University.
After 15 years with Sony Music Studios in New York and a successful independent recording business, Grammy award-winning recording engineer Richard King is now an associate professor at the Schulich School of Music at McGill University in Montreal. He continues his freelance recording work, with various record labels and film companies in the US.
Richard is a frequent AES panelist, and he is a guest lecturer at many university level recording programs on a regular basis.

Posted: Tuesday, April 16, 2013
Introducing Student Design Competition judge Aurelio Uncini of the Sapienza University of Rome!
Aurelio Uncini
Aurelio Uncini received a Laurea degree in Electronic Engineering from the University of Ancona, Italy in 1983 and a Ph.D. degree in Electrical Engineering from University of Bologna, Italy in 1994.
From 1984 to 1986, Uncini worked with the Ugo Bordoni Foundation, engaged in research on digital processing of speech signals and automatic speech recognition. From 1987 to 1993, he served as an aggregate researcher in the Department of Electronics and Automatics at the University of Ancona, where he held the position of Assistant Professor from 1994 to 1998. From 1999 to 2004, he was Associate Professor at the INFOCOM department of the Sapienza University of Rome. Currently, Uncini is a Full Professor at the Department of Information Engineering Electronic and Telecommunication (DIET) teaching Circuits Theory, Adaptive Algorithm for Signal Processing, and Digital Audio Processing, and is the founding director of the laboratory of Intelligent Signal Processing and Multimedia (ISPAMM). In 2012, he was promoted to Vice Dean of Faculty of Information Engineering, Computer Science and Statistics at Sapienza.
Professor Uncini has authored more than 150 papers in the field of circuits theory, optimization algorithms for circuits design, neural networks, and audio and signal processing. His present research interests also include linear and non-linear adaptive filters, blind signal processing, adaptive audio array processing, and machine learning for signal processing.
Professor Uncini is Chair of the Audio Engineering Society Italian Section, a member of the Institute of Electrical and Electronics Engineers (IEEE), and a member of the Italian Society of Neural Newtorks (SIREN).

Posted: Saturday, April 13, 2013
Introducing Student Design Competition judge Roberto Magalotti of B&C Speakers!
Roberto Magalotti
Roberto Magalotti graduated in Physics summa cum laude at the University of Bologna in 1994, with a thesis on the physical modeling of musical instruments. After graduating, he joined Generalmusic, where he worked as a designer of professional loudspeaker systems, specializing in crossover network optimization, loudspeaker horn design and testing, and plane wave tube measurements.
In 2001 he joined the Research & Development Lab of B&C Speakers, where he is currently Head of Research. His interests include modeling, measurement and simulation of the nonlinear behavior of loudspeaker drivers, optimization of magnetic assemblies and application of Finite Elements Analysis to loudspeaker
design. He is an AES Member since 1999 and has served as Secretary of the Italian Section from 2005 to 2007.

Posted: Saturday, April 13, 2013
Attention all circuit designers, software engineers, and electronics hobbyists!
The AES 134 Student Design Exhibition is
now open to all student projects!!
We've got extra room at the AES 134 SDE! The tabletop session is scheduled for 11:15am-12:45pm on Sunday, May 5 at the Fontana di Trevi Conference Centre. If you've designed a piece of audio hardware or software, this is your chance to show it off to the best in the business.
To reserve your spot, email Colin Pfund at colin@aes-sda.org.
Don't wait. Sign up TODAY!

Posted: Wednesday, April 10, 2013
We present to you another generous sponsor to the upcoming Student Recording Competition in Rome. We are deeply grateful for their support and very exited to give away some awesome prizes to the winners!
D16 Group Audio Software is a Polish software company founded in 2004 who operates mainly in the music software. D16 is famous for creating some of the best known emulations for synthesizers such as the Roland TB-303, TR-808, TR-909 as well as other effects processors (multiband distortions, decimators, phasers), all in the form of VST x64 plug-ins.

Posted: Tuesday, April 9, 2013
We present to you another generous sponsor to the upcoming Student Recording Competition in Rome. We are deeply grateful for their support and very exited to give away some awesome prizes to the winners!
THANK YOU AURALEX!
www.auralex.com
Auralex Acoustics is the industry leader in acoustical treatment products, including acoustical absorbers, diffusors, sound barriers, construction materials, isolation platforms and complete room treatment systems. Let the experts at Auralex help you achieve world-class acoustics in any room.

Posted: Tuesday, April 9, 2013