AES Student Blog
Thank you, Sonic Studio!
The AES Student Recording Competition and Student Design Competition depend on the many generous sponsors and volunteers who make the events a reality at each AES Convention. For their outstanding support, we would like to extend a big THANK YOU to our friends at Sonic Studio.
www.sonicstudio.com
Sonic Studio is a supporter of audio education in numerous ways, especially through their Sonic EDU initiative: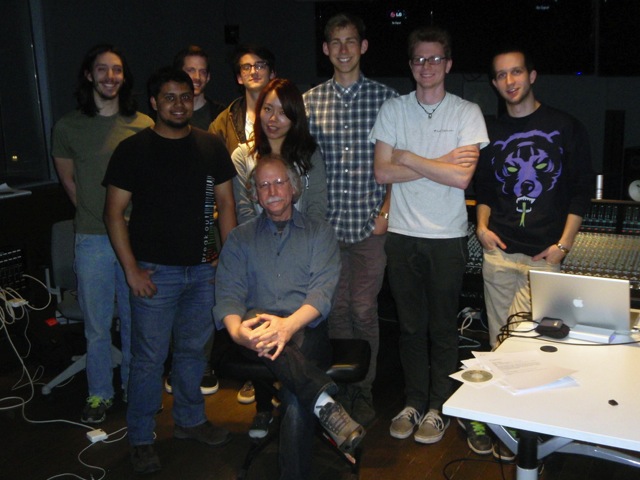 Several years ago, New York University's chief systems engineer Tom Beyer approached seasoned mastering engineer Alan Tucker and asked if he would be interested in creating and teaching a graduate seminar based upon his experience and career as a mastering engineer. With more than a 40 year audio career behind him, and more than a few stories to tell and tricks to show he was certainly excited by the opportunity.
However, how best to teach the course? Alan was told he would be teaching in NYU Steinhardt School's Dolan Studio in downtown Manhattan. A very capable room with a big SSL hybrid console and large LCD monitors mounted on walls around the control room, options were endless. With all those possibilities before him, however, Alan wanted the same system he uses in his own mastering studio: soundBlade. It's developed by Sonic Studio, a company well known to mastering professionals as descendant from the classic Sonic Solutions, which revolutionized mastering in the early 1990s.
Alan approached Sonic Studio with an idea to create a special package for students, teachers, and institutions: an Education package' containing everything needed to perform world-class mastering, from file handling to master format delivery for download or replication. Sonic's Rolf Hartley and Jon Reichbach embraced the idea. Working together they created a formal Sonic EDU initiative that provides each student with their own complete system for the term. The EDU package is provided at no cost to students and institutions participating in the program. Instructors provide training, support and teaching. Students gain use of the system and are offered a chance to own it at the end of the semester at massive discount, allowing them to get started in businesses of their own using world-class technology that they have grown comfortable with.
SoundBlade has proven for NYU — and others, including the Ohio University School of Media Arts & Studies, Berklee College of Music, and the SET-School — to be an excellent choice for teaching the rudiments as well as esoterica of audio mastering. Any schools interested in further discussing this exciting Sonic EDU initiative are invited to email Rolf Hartley at rolf.hartley@sonicstudio.com.

Posted: Wednesday, July 10, 2013
« AES 134 Student Design Competition: The… | Main | Sponsors of the 134th AES Student Recording… »