AES Students
On the Student pages you will find information collected and provided by student members of the AES who have been elected officers of the Student Delegate Assembly (SDA). Find out more about us here.
If you are an AES student member, this is the place where you can get informed about student related topics. Also, every student is invited to help keeping these pages a vivid and up to date resource by sending us interesting news and reports from your AES Student Section.
Join the AES Student community today!
Check out Telefunken, one of our incredible sponsors for thsi year's recording competition at AES 136. This maker of the finest gear around has generously decided to support us yet again! Be sure to attend the competitions in Berlin, and SDA-2 to see which talented audio student will take home this extraordinary prize!
TELEFUNKEN Elektroakustik™ strives for absolute perfection. By offering historic recreations of classic microphones alongside their own proprietary designs based around the distinctive tube mic sound, TELEFUNKEN has established a product line that perfectly blends vintage style and sound with the reliability of a modern-day microphone. Their commitment to both the sonic excellence and quality of all of their products is rivaled only by their dedication to provide the BEST possible service to each and every one of their customers.
TELEFUNKEN's R-F-T Series of tube microphones are affordable solutions that deliver amazing tone and ultimate application flexibility at a price anyone who is serious about recording can afford. The Dynamic Series microphones are a phenominal value and offer an articulate, detailed sound with minimal proximity effect in a rugged, roadworthy design. Upgrade your sonic collection with TELEFUNKEN microphones!


Posted: Monday, April 21, 2014
Meet Richard King, one of our honorable judges for Category 2: Traditional Studio Recording.
Richard King is an Associate Professor in the Music Research Department at the Schulich School of Music of McGill University in Montreal, and is currently Chair of the sound recording area. He is an Educator, Researcher, and a multiple Grammy award winning recording engineer for classical, jazz, and film score projects. Richard is also part-time faculty at the Banff Centre in the sound and media department, and an Executive member of the Centre for Interdisciplinary Research in Music, Media, and Technology (CIRMMT), representing Axis 4: Multimodal Immersive Systems. A frequent presenter and panelist for the Audio Engineering Society, he is regularly invited to speak at various university level recording programs around the world. He holds a Master of Music degree from McGill University, and a Bachelor of Music degree from Dalhousie University in Halifax, Nova Scotia. His research interests include small environment & control room acoustics, audio quality, and multichannel recording and reproduction.

Posted: Monday, April 21, 2014
Here we are with yet another great name of audio and also a kind sponsor to the upcoming Student Recording Competition at AES 136 in Berlin. We are deeply grateful for their support and very exited to give away some awesome prizes to the winners!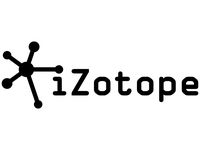 iZotope is a research-driven audio technology company based in Boston, Massachusetts. Its award-winning products and audio technologies are used by millions of people in over 50 countries, from consumers to musicians to major film, TV, and radio studios. Some of the diverse clients include musical giants like BT, Depeche Mode, and RZA of WuTang Clan; radio stations like Boston's iconic WGBH; and TV programming like CBS's Survivor, the Discovery Channel's Deadliest Catch, the World Cup broadcast, and the GRAMMY awards. Through an extensive licensing program, iZotope technology is also directly integrated into products made by industry-leaders such as Adobe, Avid, and Sony; video games from companies like Harmonix and Ubisoft; as well as a growing number of mobile phone applications.

Posted: Monday, April 21, 2014